Rocky Mountain Care in Clearfield, Utah
Skilled nursing and rehabilitation for the residents of Clearfield and the surrounding Davis County area
Schedule a tour
Contact
About Rocky Mountain Care – Clearfield, UT
Rocky Mountain Care's skilled nursing community in Clearfield, Utah is consistently recognized as an industry leader in nursing care by third party customer satisfaction companies. Our skilled team of interdisciplinary nurses and social workers provide excellent nursing care while maintaining a low registered nurse to patient ratio with one-on-one therapy sessions and personalized care plans. For patient-centered care, Rocky Mountain Care sets itself apart coupling best in class nursing care with friendly, personalized resident care with an at-home feel. The innovative design brings the latest, state-of-the-art equipment in a beautiful setting for both short- and long-term care.
Overview:
24-hour skilled nursing
Physical Therapy
Occupational Therapy
Speech Therapy
24/7 Respiratory Therapy
Short and Long Term Care
Social work services
Throughout Rocky Mountain Care's history, we've developed innovative senior healthcare facilities and integrated therapies to better serve our patients and our communities. We strive to provide professional therapy services and nursing care that increase the quality of life and ensures each one of our patients receives the individual care and support they need. Rocky Mountain Care in Clearfield is also the only Medicare and Medicaid certified facility within the North Davis County area.
Our Commitment
Our commitment to our patients and their families drives how we develop therapy programs. With occupational, physical, and speech therapy services, we design each care plan to the specific needs of each resident to improve their recovery and function, as well as the quality of life. Each one of our patients receives gentle, hands-on care with an experienced, professional therapist in every therapy session. Care starts with face-to-face conversations and assessments, not just reviewing medical notes and monitors. Our team provides the extra motivation, encouragement, education, and bedside care that promotes healing and rehabilitation.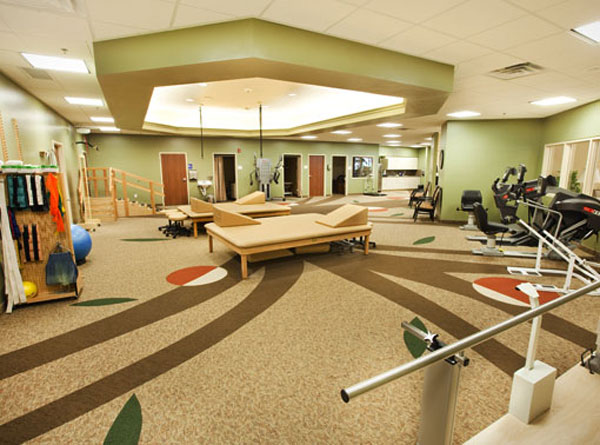 In a state-of-the-art, innovative center, our nursing facility in Clearfield creates a relaxing, at-home atmosphere that promotes rehabilitation and care. The rooms at our nursing center are designed for comfort with private and semi-private rooms available, private bathrooms with walk-in showers, flat screen televisions in every room, and extra wide beds with stress relieving, therapeutic mattresses. With Wi-Fi internet access throughout the facility and a fully operational beauty salon, Rocky Mountain Care has created a truly innovative nursing care center in Clearfield.
Ventilator management

Weaning parameters
Retraining programs
Advanced weaning capabilities

Tracheostomy care

Decannulation protocols
Secretion management

Oxygen therapy
CPAP/BiPAP
Pulse oximetry
Diagnostic services

X-ray
Ultrasound
Arterial blood gas
EKG
Inpatient Transitional Rehabilitation Therapy
Physical Therapy
Outpatient Therapy Services
Lymphedema Therapy
Home Care Therapy Services
Wound Care
Orthopedics (Post-Surgical and Trauma)
Neurology (Especially CVA Care)
Interdisciplinary Team Members
Registered nurse—24/7
Respiratory therapy—24/7
Pulmonologist
Physical therapy
Occupational therapy
Speech therapy
Recreational therapy
Social services
Registered dietician
Wound care specialist